All You Need To Know About
PU Tube
PU Tube Sizes, Usage, and More
PU (the abbreviation of polyurethane) is a type of plastic, a durable and affordable option for hoses. The use of polyurethane in hoses has been around for many years and it's still one of the most popular materials used today. PU plastics provide good durability, flexibility as well water resistance so they can be buried under oil or gas without compromising their integrity which makes them perfect when designing parts that need to withstand high temperatures like those found on an engine bay! Nowadays, people often call it a PU tube, Polyurethane tubing, Pneumatic Air Hose, Polyurethane Hose, or PU Hose.
1. Eco-Friendly
Polyurethane tubes are an eco-friendly alternative to traditional plastic. According to the polyether amines website, polyurethane tubes have been proven don't contain any harmful chemicals for humans and animals alike!
Polyurethane tubes are an eco-friendly alternative to traditional plastic. According to the polyether amines website, polyurethane tubes have been proven don't contain any harmful chemicals for humans and animals alike!
.
2. Good Flexibility, Durability, and Abrasion
Polyurethane Tubes are perfect for any activity where you need to be in contact with your surroundings. Polyurethanes have excellent durability which means they don't crack often when compared with other materials like PVC pipes usually do after just one season of exposure under bad weather conditions. The material's good flexibility, durability, and abrasion resistance make it an excellent choice!
3. High Heat Tolerance
Polyurethane tubes are perfect for use in high-heat environments. These durable, flexible, and strong materials can stand up to harsh conditions like those found on a stovetop or oven without breaking down easily due to their excellent durability which makes them an ideal choice when you need something that will last!
4. Resistant to Chemicals, Water, Fuel, Oil, and Fungus
Polyurethane is a durable material that can withstand oils, chemicals, and water. It's perfect for outdoor applications where it will be exposed to the elements such as rain or snow. They're also fungus-resistant which makes them perfect for storing your favorite juice or beer at home and also keeping your car looking good for years!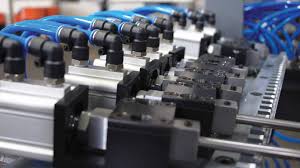 PU or Polyurethane Tubing is used for pneumatic, hydraulic, plumbing, insulation, and heating systems. PU or Polyurethane is a type of plastic, which can be bent to different shapes and sizes, making them perfect for many applications. Compression fittings are frequently used in conjunction with polyurethane tubes as they provide a leak-proof connection between two movable parts such as pipes or hoses. Generally speaking, the applications of PU or Polyurethane Hoses include air lines, fluid lines, mattresses, construction, furniture, dental unit, medical equipment, park amusement facilities, robotics, and vehicle engines.
What are PU Tubes

made of?
Polyurethane tubing is a versatile form of polyethylene, propylene or urethane that has been polymerized to create unique materials with the same properties as those found in nature. Poly tubing can be used for all sorts of things from building fences and pipes, to making balls. It has flexible walls with strong durability ensuring it won't break easily even if you hit something really hard on your bike or step wrong while running downhill!
Want to know more about our products?

At XAKJ, we provide various PU tubes. Request a free quote from us today!
What are the similaries and differences between

PU and PVC

?
When it comes to choosing plastic for various applications, both polyurethane (PU) and polyvinyl chloride (PVC) are popular options. They have different characteristics, so it's important to understand the pros and cons of each before making a decision. On this page, we'll take a closer look at both items and help you decide which one is right for your needs.
Similarities:
Polyurethane (PU) and polyvinyl chloride (PVC) have several similarities. Both items are highly durable and resistant to damage, which makes them well-suited for a variety of applications. Additionally, both PU and PVC have exceptional resistance to heat, making them ideal for uses that require frequent contact with extreme temperatures.
Both PU and PVC also possess good insulation properties, providing effective protection against the transfer of heat or sound waves through walls or other structures. Furthermore, when it comes to outdoor use, both PU and PVC are extremely weather-resistant, making them suitable for outdoor furniture and structure components. They provide strong protection from UV rays, rainwater, snow, wind, dust, and other environmental conditions that can damage weaker materials over time.
In terms of their chemical makeup, PU and PVC share many similarities as well. Both materials consist of carbon-based molecules that form long chains in their respective polymers. These linkages make them kink-resistant and abrasion-resistant, giving the material strength and flexibility while maintaining its lightweight properties. In addition to being chemical cousins on the molecular level, PU and PVC also have similar chemical makeups at the atomic level; they both contain chlorine atoms as part of their molecular structure.
Overall, it is easy to see why these two materials are so popular when it comes to constructing objects that need a combination of strength, durability, and insulation properties at once – they offer a great solution!
Difference:
The primary difference between PU (Polyurethane) and PVC (Polyvinyl Chloride) is their physical properties. PU is a type of plastic that is soft, flexible and has excellent tear resistance. It is often used in clothing, furniture, and automotive interiors because of these properties. On the other hand, PVC is a hard, rigid plastic often used for pipes and as a protective coating for electrical wires. It has excellent electrical insulation properties and chemical resistance but lacks oil resistance and tear resistance.
In terms of cost, PU tends to be more expensive than PVC because it requires additional processing steps for manufacturing and its raw materials are generally more expensive. However, this does not mean that PU should always be considered the higher-quality option; it simply means it will usually have a higher price tag associated with it.
When it comes to environmental friendliness, PVC has been criticized due to its chlorine content which can lead to hazardous byproducts when produced or disposed of improperly. This has led many manufacturers to switch to using non-chlorinated thermoplastics such as PU instead of PVC to reduce their environmental footprint.
Specifically, regarding durability, both PU and PVC are known for their excellent performance in wear tests – though once again they differ by application: while PU will perform better in applications requiring high levels of flexing or folding (such as furniture upholstery), PVC will outperform PU in applications where abrasion resistance is paramount (such as automotive wiring harnesses).
Finally, another key difference between the two materials relates to fire safety: although both possess self-extinguishing properties when exposed to a flame source, PU plastics tend to give off less smoke compared to PVC when burned under similar conditions – making them preferable from an indoor air quality perspective.
| Features | PU | PVC |
| --- | --- | --- |
| Flexibility | Excellent | Excellent |
| Weather Resistance | Excellent | Excellent |
| Durability | Excellent | Good |
| Chemical Resistance | Excellent | Good |
| Oil Resistance | Excellent | Poor |
| Acidic Resistance | Poor | Excellent |
| Tear Resistance | Excellent | Good |
| Temperature | -40℃ to 65℃ | -20℃ to 60℃ |
| Environmental Friendliness | Eco-friendly | Hazardous |
| Fire safety | Excellent | Good |
| Price | Higher | Lower |
Polyurethane Tubing Types and Sizes
Polyurethane tubing(PU Tube) is a versatile and flexible item that can be used for a variety of applications. It is made from polyurethane polymer, a thermoplastic elastomer that can be easily molded and formed into different shapes and sizes. Polyurethane tubing is widely used given that it's extremely flexible, abrasion resistant, kink resistant, and with a large temperature range. Additionally, it has excellent chemical resistance making it suitable for use with many liquids and gases. PU tubing also comes in several different types and sizes to meet the needs of different applications.
Polyurethane Tubing Types
Common types of PU include a thermoplastic polyurethane (TPU), polyether-based polyurethanes (PEPU), and Polyester-based polyurethanes (PEP). Thermoplastic Polyurethane is the most common type used due to its superior physical properties such as tensile strength, elongation at break, tear strength, flexibility, abrasion resistance as well as low moisture absorption rate. PEPU is an improved version of TPU with improved elongation at break which makes it perfect for applications requiring elasticity while PEP offers superior rigidity and dimensional stability.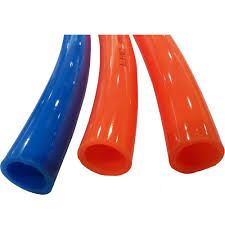 Pneumatic Polyurethane Tube offers superior kink resistance and minimal kink memory, making it ideal for applications requiring excellent flexibility and bending. This tubing is suitable for high-pressure tasks such as chemical transfer and pneumatic applications, with a temperature range of 55°C to -40°C that ensures its ability to withstand even the most extreme environmental conditions. Furthermore, this material is highly resistant to abrasion and has superior bursting strength compared to other types of tubing. As an added bonus, it boasts excellent durability over time, so you can be sure that your equipment will last for years to come. Additionally, the low permeability of this tubing means that fluids are kept in their original form, preventing contamination or leakage. The unique combination of features makes Pneumatic Polyurethane Tube perfect for a variety of industrial settings where maximum performance over long periods of time is essential.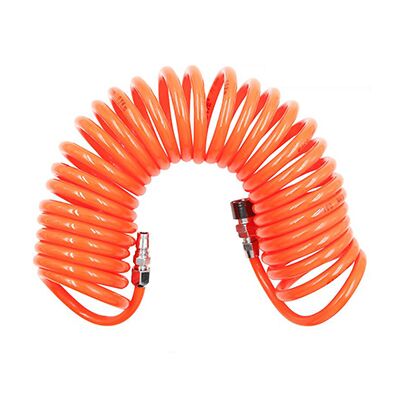 PU hoses can also have different designs like Polyurethane Compact Coils(PU Coil). Polyurethane Compact Coils are an ideal choice for applications that require both high flexibility and the ability to withstand extreme temperatures. They are made up of a preformed polyurethane coil which doesn't lose its flexibility in temperatures ranging from minus 20°C up to 65°C. This makes them perfect for use on robots, as well as with industrial air tools in environments with fluctuating temperatures.
Overall, Polyurethane Compact Coils provide an excellent solution for applications requiring both flexibility and temperature resistance capabilities, meaning that engineers and professionals don't have to make compromises on either aspect when looking for a suitable hose solution.
Polyurethane Reinforced Hose is the ultimate flexible and durable solution when it comes to conveyance applications. It offers excellent kink and abrasion resistance, making it able to withstand heavy wear and tear. It also has an impressively wide temperature range of 65°C to minus 40°C, making it suitable for a variety of applications, such as transferring dry powders and granules, as well as conveying gases and liquids. This hose is often used in industries like mining, construction, and manufacturing due to its versatility and durability. Additionally, its flexibility makes it easier to fit into tight spaces, making it an ideal choice for any kind of job. With proper maintenance and care, this hose can last for years and be relied upon for all kinds of tasks.
Polyurethane Tubing Sizes
The size range available in Polyurethane Tubing depends on the specific type being used but generally ranges from 3mm to 10mm in inner diameter with wall thickness ranging from 0.5mm to 2mm depending on the application requirements. Generally speaking, larger diameters offer better flow rates while thinner walls allow for more flexibility in bending or coiling without kinking or collapsing.
The benefits offered by Polyurethane tubing are numerous; from its high durability in harsh environments to its resistance against corrosion due to weathering or extreme temperatures making it suitable for a wide range of industrial applications including fuel lines for automotive vehicles, hydraulic systems for machinery and equipment as well airlines for compressors among many other uses. All these qualities make PU tubing one of the most popular choices among engineers looking for reliable solutions when dealing with liquid or gas transfer-related tasks.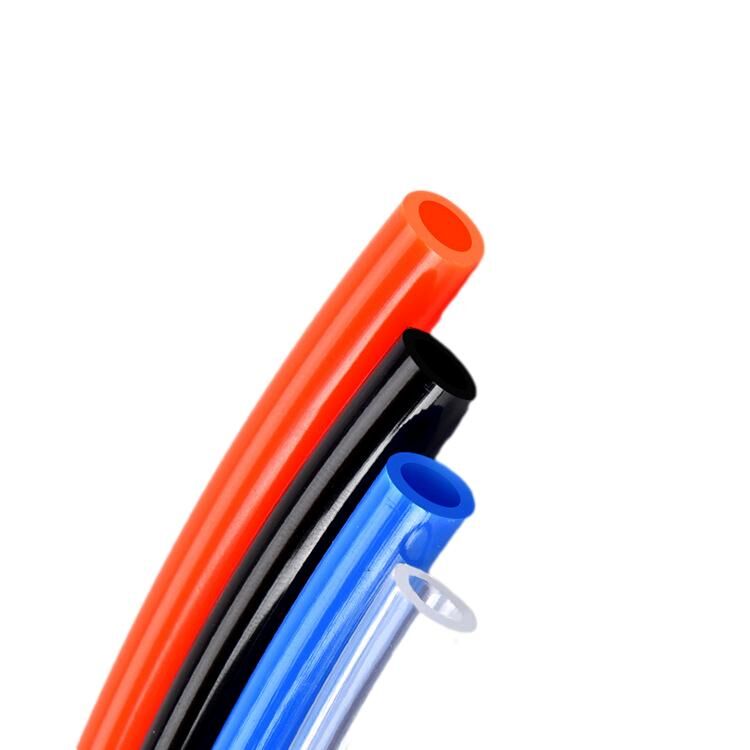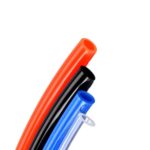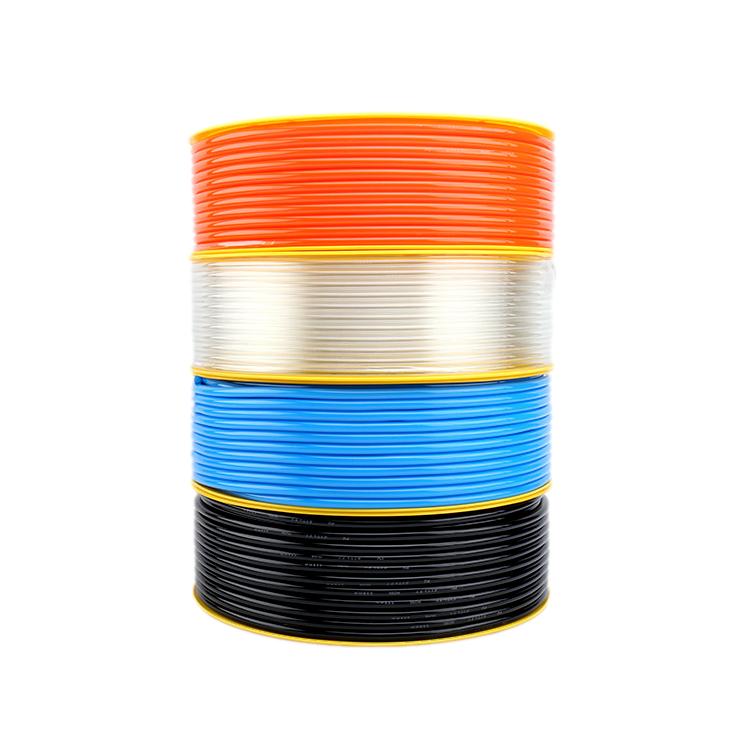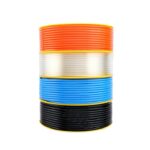 Product

Size

Length

Unit

Common Color

Transparent; Red; Blue; Black

Transparent; Red; Blue; Black

Transparent; Red; Blue; Black

Transparent; Red; Blue; Black

Transparent; Red; Blue; Black

Transparent; Red; Blue; Black

Transparent; Red; Blue; Black

Transparent; Red; Blue; Black
Product

Size

Length

Unit

Common Color

Transparent; Red; Blue; Black

Transparent; Red; Blue; Black

Transparent; Red; Blue; Black

Transparent; Red; Blue; Black

Transparent; Red; Blue; Black

Transparent; Red; Blue; Black

Transparent; Red; Blue; Black

Transparent; Red; Blue; Black
Considerations in buying PU tubing
When considering the purchase of PU tubing, it is important to consider several key factors that can affect the quality, performance, and longevity of the product.
Materials
Firstly, one should consider the type of polyurethane being used in the tubing. Different types offer different levels of durability and flexibility, so it's important to select materials appropriate for the intended use. For example, thermoplastic polyurethane is often used for flexible tubes due to its excellent abrasion resistance while more rigid varieties are more suitable for certain industrial applications.
Size & Shape
It is also important to consider factors such as size and shape when selecting polyurethane tubing. The diameter of the tube must be large enough for whatever purpose it will be used for; too small a size can lead to decreased efficiency or even failure if too much pressure is placed upon it. Similarly, some tubings may also require certain shapes or configurations to better fit into a given application.
Application of Polyurethane tubing
In addition to these two primary considerations when buying polyurethane tubing, other features should be taken into account as well. These include wall thickness, length, and color which all play a role in determining how well a tube performs over time. Furthermore, some tubes may require further processing or finishing treatments such as braiding or coating in order to ensure their maximum effectiveness in any particular situation. Finally, consideration should also be made towards longevity and compatibility with other materials; while some varieties may last longer than others they may not be compatible with certain liquids or chemicals that they could come into contact with during usage.
What to look for in a Polyurethane tubing supplier or manufacturer?
Certificate
Industrial certification is a seal of excellence for manufacturers and suppliers. It means that the company has met all requirements to produce products in compliance with rigorous standards, passed inspection by an accredited third party agency who assesses their work area against strict rules set out by governing bodies across various industries. This shows you can be confident when buying from these companies because they will stand behind what They sell!
Quality
A good polyurethane tubing supplier or manufacturer should have various quality levels to meet different customers' needs. Besides, quality assurance is the top priority in selecting tubing suppliers.
Price
It is clear that price plays an important role in any business cooperation. The cost-effective prices can make customers more competitive with their own market, which will help them to succeed in the industry of competition. A cost-effective price can help customers be very competitive in their own market. However, price is not everything. When selecting PU tube suppliers, we should avoid cut-throat competition and make sure the price matches its value, but not only low in price.
Abundunt Products
A good PU tube supplier or manufacturer should have abundant tubes for selecting. It's important to be able find the right kind of tube for your needs. There are many types and sizes out there, so it pays off big time if you can first identify what type or size is needed before making any purchases!
Quick: Quick Reply & Fast Delivery
A professional tube supplier should quickly respond to customers' inquiries or demands in the first place. In XAKJ, we promise to reply to customers within 24 hours. Besides, on-time delivery is very important in selecting a pneumatic products' manufacturer. Here in XAKJ, for products in stock, the delivery date will be within 3 days. For regular items, the delivery date will be around 7-15 days.
Our sales team can help you with price and shipping calculations, and they mainly handle pre-sales issues.
278, weiqi road, economic development zone
Yueqing City, Zhejiang Province, China
Our technical team can help you customize and design your product, and they mainly handle after-sales issues.
278, weiqi road, economic development zone
Yueqing City, Zhejiang Province, China
Skyrocket your sales today
What you need is a true veteran of the pneumatic industry. Let Wolfitting.com help you become top in the field.